Where there's a party every night of the week
Welcome O'Sullivans Grands Boulevards to the KeyCafe family.
Why O'Sullivans Grands Boulevards? Simply because of its location on the "grand" touristy boulevards of Paris. So call it what you will, this joint is where it's happening. Whether you're a tourist looking for a quick drink (or bite) after your day of shopping, or a local meeting friends or taking your colleagues for a pint after work, this is where everyone comes.
There's a party every night of the week at O'Sullivans. Mondays is industry night (also known as Blue Monday Club) where bartenders from far and wide can enjoy great drinks, prizes and fun times. All the biggest rugby and football (soccer) games are live on the teles. Wednesday night is ladies' night with special drinks and guest DJs. Thursdays is mojito night for the after work crowd. Weekends they host the biggest and best DJs. And one Sunday a month is R&B night.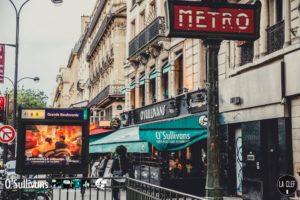 1 Boulevard Montmartre
75002 Paris Metro 8/9–Grands Boulevards
01 40 26 73 41
Montmartre@osullivans-pubs.com
http://www.osullivans-pubs.com/en/bars/osullivans-grands-boulevards-cafe-bar/
Monday to Friday: 12pm – 4:30am
Saturday and Sunday: 1pm – 5am