Locals Love The Mayflower
Welcome Market Mayflower and Deli to the KeyCafe Family.
For more than 20 years, the Market Mayflower and Deli has called San Francisco home and has remained a family-owned independent grocery store. Fresh, hand-picked produced delivered to the store daily, ensures their regular customers are always happy. Charcuterie, freshly baked bread and homemade pastas, salads and more. They even offer imported chocolates and organic food to satisfy every taste. As a neighborhood staple, locals know Mayflower is the place to get the best sandwiches and snacks.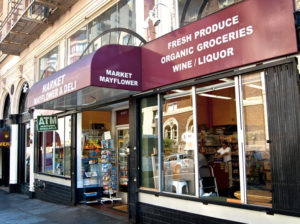 985 Bush St.
San Francisco, CA 94109
415-474-6110
http://marketmayflower.com/
Sunday – Thursday: 9 am – 11 pm
Friday – Saturday: 9 am – 12 am