Great Food For All
Welcome Gourmet Garage to the KeyCafe family.
Originally, Gourmet Garage started in 1981 as a major supplier of the highest quality foods to the best restaurants in New York City. Later, they opened to the general public to offer every New Yorker the same service. As a result, their slogan became "Shop like a chef!" since that was essentially what they were offering their clientele. The freshest fruits and vegetables, the freshest seafood, grade A marbled meats, artisan breads and much more. They have even offer home delivery service for a fee.
Gourmet Garage also serves up prepared foods to their customers. Their tasty rotisserie chicken comes in three flavors: Adobo, Moroccan and Rosemary. Vegetable dishes that range from grilled bok choy to a faro primavera. Grab-n-go snack food or lunch favorites like Carolina fried chicken, teriyaki chicken tenders, and spicy yam fries. And that's just the beginning.
So basically, there's a little taste of something for everyone here, whether you're a budding gourmand or a world-class chef.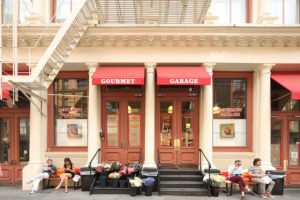 The Village
117 7th Ave South
New York, NY 10014
212-699-5980
http://www.gourmetgarage.com/
Everyday 7am – 10pm