A Hidden Gem In Russian Hill
Welcome Michaelis Food Store to the KeyCafe family.
Get this, more than two dozen varieties of sandwiches AND a create-your-own-sandwich bar to boot. This deli makes these sammies fresh to order and you won't be disappointed by the size or the price (between $6 and $9). Food is available for delivery or takeout and is open daily.
If you're just passing by, don't look past this liquor store – the deli inside is where the magic happens. The ingredients are fresh and so is the selection of breads and rolls. Most popular items on the menu are the GT3 with chicken breast, bacon, and turkey with 3 pepper colby jack cheese; or the Wreck with salami, roast beef, turkey, ham and monterey jack cheese.
Walking distance from Fisherman's Wharf, and just outside the tourist hotspots, it's the perfect place to get your picnic essentials and get some people watching and ocean.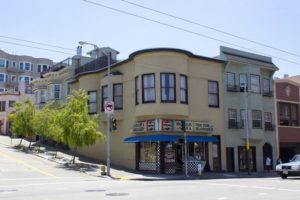 901 North Point Street
San Francisco, CA 94109
(415) 673-9708
http://michaelisfoodstore.eat24hour.com/
Sunday-Thursday: 9am-11pm
Friday-Saturday: 9am-12am